Keto D-BHB Capsules with Apple Cider Vinegar & MCT - 15 Servings
<! –– Bazaarvoice Shopify Integration Version 2.1 ––>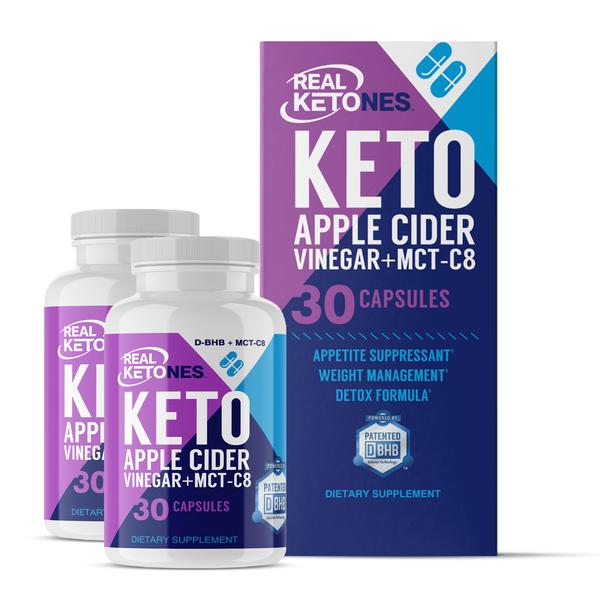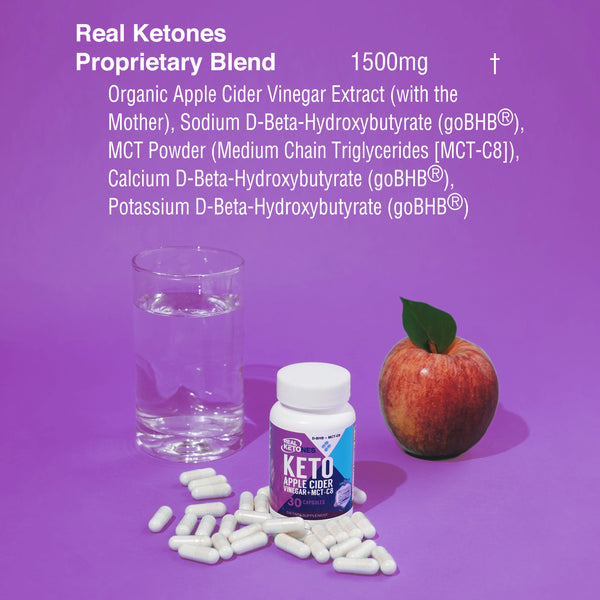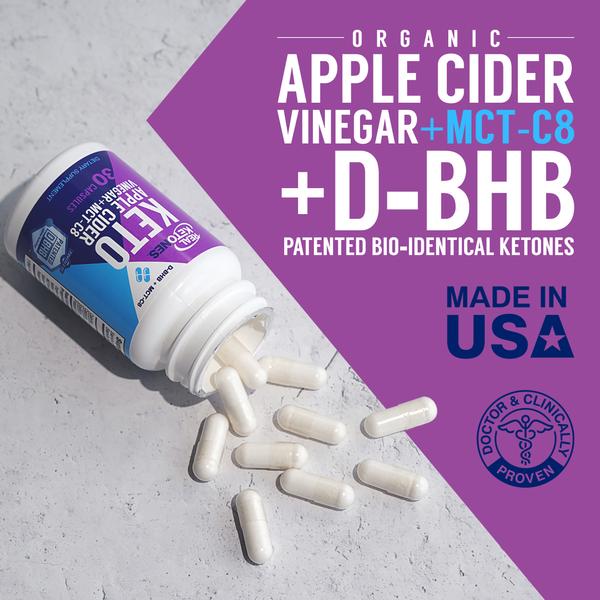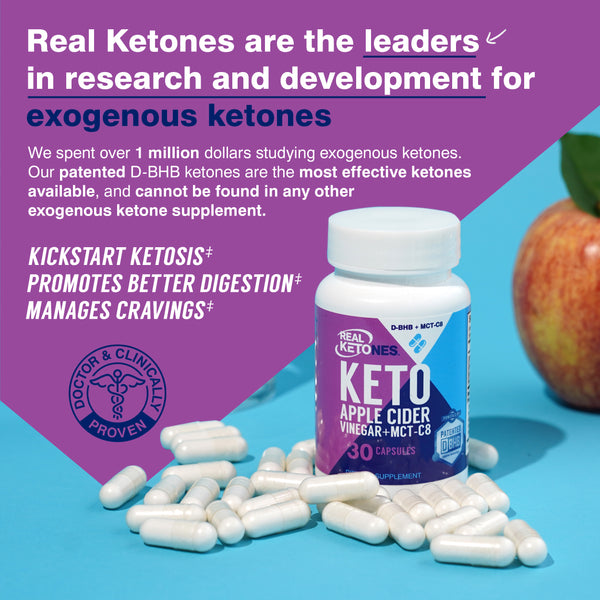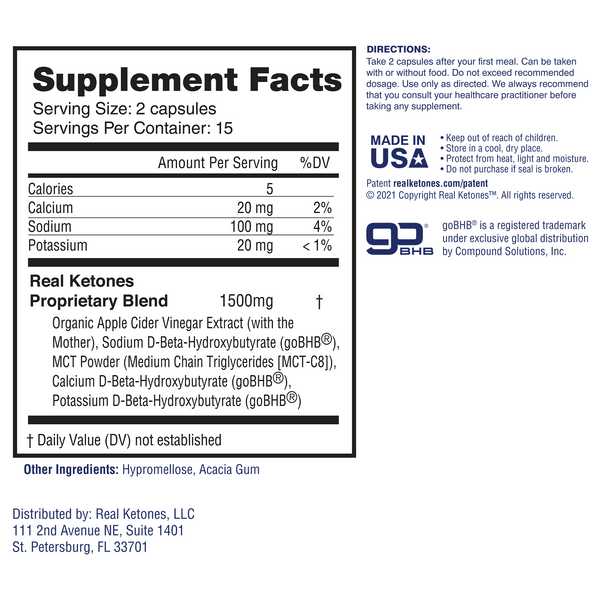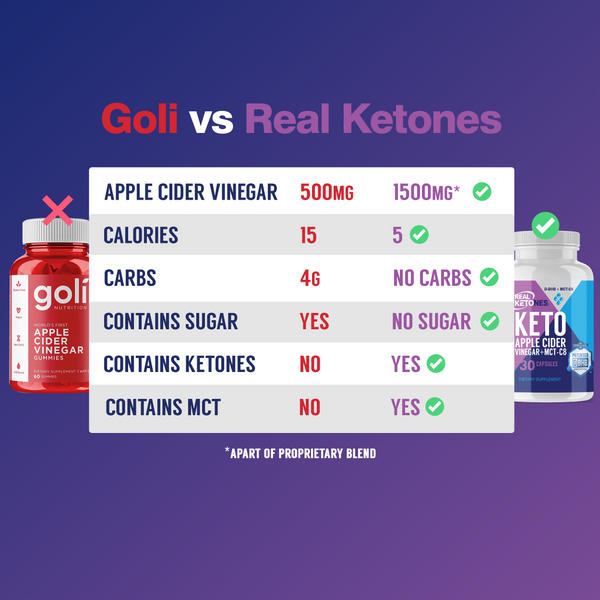 Increase Ketosis and Stabilise Blood Sugar Levels
These capsules contain BHB to support your fat burning metabolism, appetite suppression as well as giving you long lasting energy which make it easier to follow a keto diet and to fast, assisting with cellular regeneration and longevity.
The Apple Cider Vinegar further stabilises your blood sugar levels and supports detoxification. Therefore, these capsules are a great way to manage your weight, reduce sugar cravings and to promote your overall health and energy.
Real Ketones' Apple Cider Vinegar Capsules with D-BHB & MCT are the easiest way to naturally support your body!  

Our bio-identical D-BHB supplies clean, sustained energy by encouraging your liver to convert stored fat for fuel without the crash. These ketones are able to be quickly and effectively absorbed, so you get the benefits right when you need them! 
This formula has 3 key electrolytes to provide superior hydration and assist the nervous system to ensure it is signalling properly. 
Apple Cider Vinegar aids in digestion for a healthy gut, which reduces bloating and can reduce cravings, as well as helping to stabilise blood sugar levels.
Our capsules also include antioxidants and vitamins for immune function to help prevent illnesses!
Cleanse, Recover & Support Your Body!

 
Detox, de-stress, and deliver ketones directly to your system, all in one capsule. High-quality, clinically studied ingredients for maximum results with Real Ketones. 
Apple Cider Vinegar slows down the release of sugar into your bloodstream and therefore is a great way to get back into ketosis and suppress hunger further. Why? Because increases in sugar cause and insulin release which can make you feel hungry. 
Free from Unpleasant Flavours & Textures
Experience the benefits of Apple Cider Vinegar without the bitterness! Now available with the additional boost from powerful D-BHB ketones and C8 MCT powder. 
Improve your healthy lifestyle daily with 1500mg of our patented blend stored in 2 easy-to-take capsules! 
Preventive

 

Health 

for Longevity
Ketones have therapeutic properties to help soothe inflammation, aid with blood-sugar management and lowering cholesterol, which can help reduce the risk of heart disease and diabetes. † 
We use the highest quality C8 MCT to supply you with a superior source of fat to enhance brain cognition and reduce the risk of neurodegenerative diseases. 
Ideal

 

F

or 

Those 

on

 the Go
No need for mixing, shaking, or blending with our capsules. The benefits of Apple Cider Vinegar, D-BHB, and MCT are accessible at any time, hassle-free. 
We use a small, travel-friendly bottle that's perfect for purses or pockets- so anywhere you can go, your capsules can too! 
Don't settle for a sugar-packed, junk-filled gummies that requires multiple doses in one day to see minimal results!  
1.5g of BHB within each serving 
Real Ketones Apple Cider Vinegar Capsules with D-BHB and MCT contain NO sugar, NO artificial sweeteners, and NO fillers. Only Apple Cider Vinegar, D-BHB, MCT, and electrolytes. 
---
Customer Reviews
09/29/2021
Bobbi A.

United Kingdom
Great for stabilising blood sugars and suppressing hunger
Good blend and love that there are no flavours or sweeteners. I take these 30 minutes before each meal to manage appetite and stop blood sugar rises. Great formula, effective and value for money.